Locations MAP
Discover - Collect - Share
Discover, collect and share your own locations with friends. The
Locations MAP
app is your own catalog with your personal favorite locations. An album like you know it from the photo sector, only with a lot more functions and information. Thanks to iCloud Sync, you always have the same data on all your devices (Mac, iPad and iPhone). You can add a homepage link, a telephone number, an email address, an info text and a photo to each location. You then have the option of assigning the location to one of your categories. You can also create the categories including the MAP icon yourself and design them according to your own wishes. With just a few clicks you can then send your locations to friends by email or message. Recommend this app to your friends and they can save your favorite places themselves. Thanks to the direct link to the route, your friends will also find the best route to your favorite places.
Even if the discovery of interesting places by COVID-19 is not easy at the moment, it is a good opportunity to use the time at home on your Mac, iPhone or iPad and to collect locations for the time after the pandemic and to share them with friends. We wish you a lot of fun and above all stay healthy !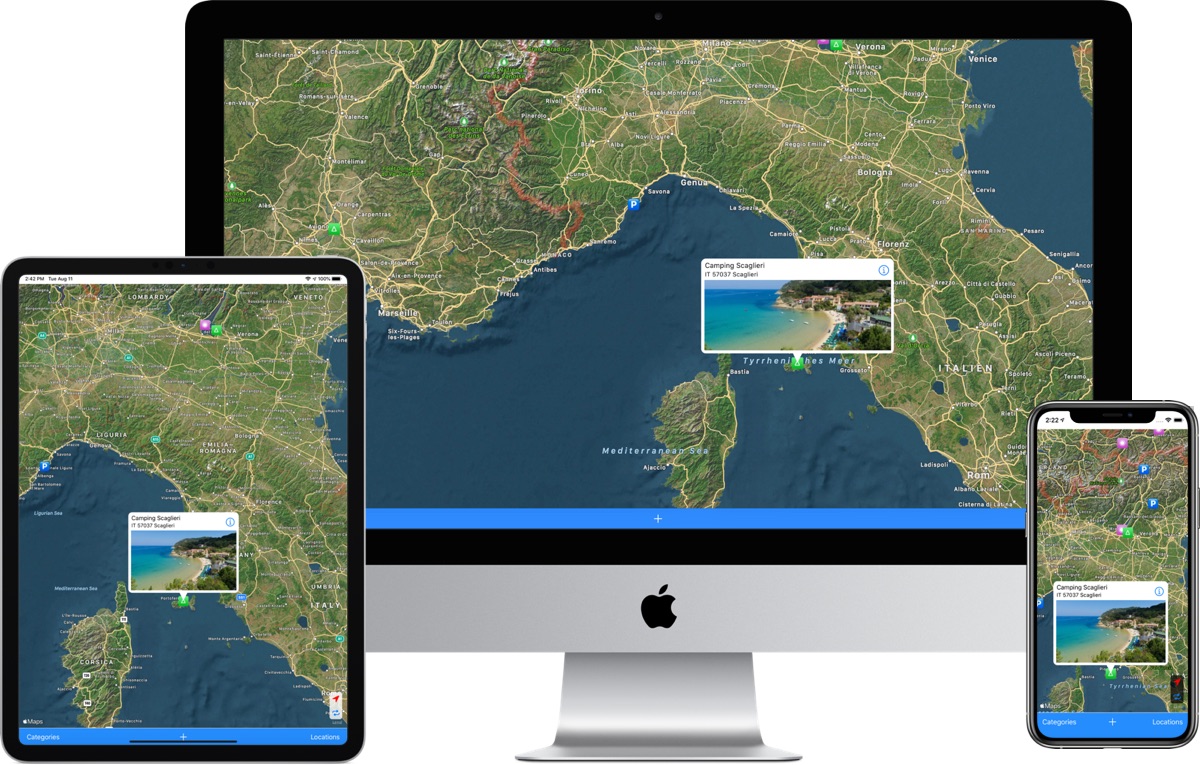 The
Locations MAP
app has numerous useful functions so that operation is simple and fun at the same time. One of the most important functions is the quick and easy creation of a new location. In addition to searching for an address, it is also possible to enter GPS data directly. If you want to create a location from which you already have a picture in your photos, the coordinates are taken directly from the picture (if available). You can also tap directly on the map (long-touch) to select a new location. If you want to capture a location on the spot, simply use the camera function to create a new one.
You can equip each individual location with additional information (website, email, info text, telephone and photo) and assign the location to its own category. You can also mark selected locations as "favorites" or as "already visited". You can find new locations, sorted by date, in the "Recently added" list.
You can see your locations in the respective category in the map on the start page. You can also create the categories yourself and design the map icon according to your taste. In addition, you can decide in the category list which locations (according to categories) should be displayed on the map.
This was just a small introduction to the extensive functions of this app. We hope you enjoy discovering, collecting and sharing interesting places on our great planet.